How to choose a reel mower?
Are you considering buying a reel mower to achieve better results on your lawn? Your first challenge will be to fully understand this type of machine. Reel mowers have been getting increasingly popular in recent years. With more and more manufacturers and models arriving on the market, choosing the right mower may prove a daunting task. That is why we have prepared an easy-to-follow guide for all enthusiasts of perfectly cut lawns.
Who is a reel mower suitable for?
Unlike rotary mowers, a reel mower cuts the lawn like scissors. Thanks to the cutting-edge cutting technology, the lawn is thicker, healthier, and greener. Therefore, if you want to create a thick green carpet in your garden, a reel mower is the right choice. There are several types of reel mowers, which we will introduce below.
Manual reel mowers
In regular shops, you can usually find hand-held or
manual reel mowers
with two wheels. A lot of people might remember a time from their youth when they discovered an old manual mower in their grandfather's shed, the kind with its cylinder blades rotating while the mower was pushed along. It was a tough job. This type of mower has been in production for about 190 years. The design has evolved slightly over time and the materials have improved, but it is still a pedestrian powered machine.
Advantages:
Good storability, low purchase price between approx. 100 and 200 EUR, relatively low operating noise
Disadvantages:
Manual, narrower cutting width, side wheels that make ruts in the lawn, but above all almost no technical support from mower manufacturers. They are usually good only for one or two seasons
Conclusion:
Manual reel mowers are best suited for small gardens of around 50 m
2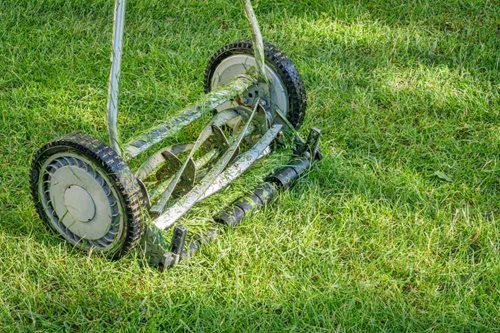 Accu reel mowers
In recent years, the range of battery-powered reel mowers has been the one expanding the fastest. These mowers are mainly suitable for home use. Battery-powered reel mowers (also known as cylinder mowers) range in price from 400 to 6 000 EUR. Accu mowers at the lower end of the price range are usually fitted with wheels, have no drive (have to be pushed along the lawn) and also suffer due to lower battery life.
As the price increases, the features and level of sophistication of the mowers on offer usually get better. Better quality cylinder mowers move on rollers, have self-propulsion, higher battery life and advanced features. One of the most advanced mowers of this type is the
Swardman Electra
. It is equipped with two independently operating electric motors and can also be easily converted into a verticutter, dethatcher, groomer, or rotary brush in 2 minutes thanks to the interchangeable cartridge system.
Advantages:
High-quality grass cutting, minimal noise, maintenance-free operation, no emissions, easy to operate, advanced features such as reverse, regeneration mode, cruise control, etc.
Disadvantages:
Longer charging time, limited battery life, limited area mower per one charge (in the case of the Swardman Electra 1 400 m
2
)
Conclusion:
Battery-powered and electric reel mowers are modern machines suitable for home use. They are designed especially for more demanding users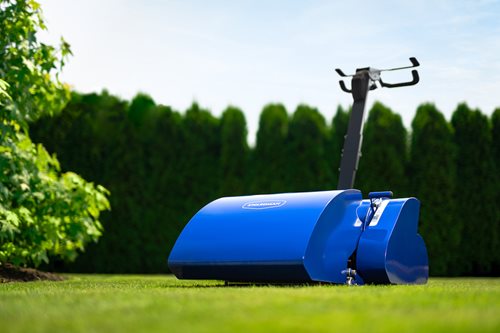 Petrol reel mowers
Petrol-powered reel mowers for home use have been around for more than 100 years. It is precisely this type of machine that caused the boom in home lawn mowing. They are usually equipped with very reliable internal combustion engines and are designed for demanding users. They generally come with their own self-propulsion systems and rollers. Some manufacturers also offer an interchangeable cartridge system, as with battery-powered models. Machines in this category range in price from about 1 000 EUR to 6 000 EUR. One of the manufacturers of petrol reel mowers is the company Swardman which designs its mowers with the aim of transforming lawn mowing into a pleasant experience while making your lawn perfect in every way. Discover the
Swardman Edwin
petrol mower.
Advantages:
Precision cutting, easy to operate, fast cutting speed, high reliability, easy maintenance
Disadvantages:
Not suitable for very small or sloped gardens, need for basic servicing of the machine, emissions during cutting, more expensive to operate, higher noise levels
Conclusion:
Petrol-powered cylinder mowers are suitable for more demanding customers who are looking for a machine offering a highly precise cut and do not mind having to carry out basic servicing of the mower after the season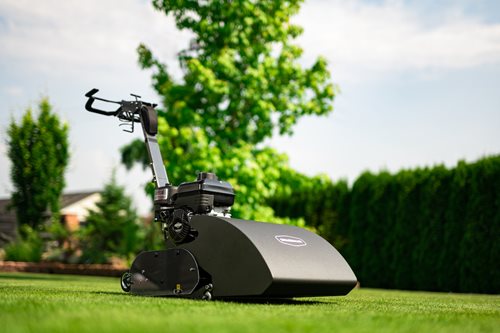 Professional reel mowers
Professional reel mowers are large machines intended for golf greens and football pitches. They offer the most precise cut, but the lawn needs to be mowed basically every day or every other day. Their construction is robust, and they are usually equipped with hydrostatic technology, so the overall width of the mower is significantly larger than the cutting width. The mowers are usually petrol-powered and self-propelled, so you do not have to push them anywhere. In fact, you can usually ride on them. What is more, they ride on rollers, creating stripes on the lawn that are pleasant to the eye. However, their robustness makes them impractical for home use as they cannot reach the edges of pavements and fences. In short, they are built for golf greens and football pitches.
The weight of one machine is usually over 100 kg while the price ranges from 7 000 EUR upwards. Their biggest manufacturers today are Jacobsen, Toro, or John Deere.
Advantages:
The best possible cut of grass blades
Disadvantages:
Too large, high weight, high purchase price, very expensive to operate
Conclusion:
Due to their size, high weight, purchase price, complex maintenance and complicated servicing, professional reel mowers are not suitable for home use. For areas below 2000 m
2
, these mowers are practically unusable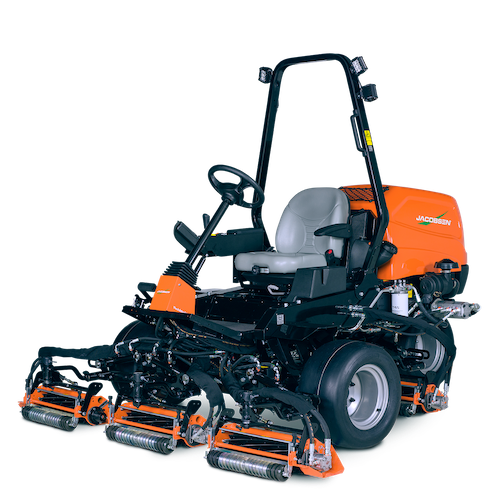 What other options do I have when choosing a lawn mower?
If you ask anyone who understands a bit about lawns, they will certainly recommend a reel mower. We hope our article has helped you make your choice. If you need further advice on choosing the right mower, please contact us at
info@swardman.com